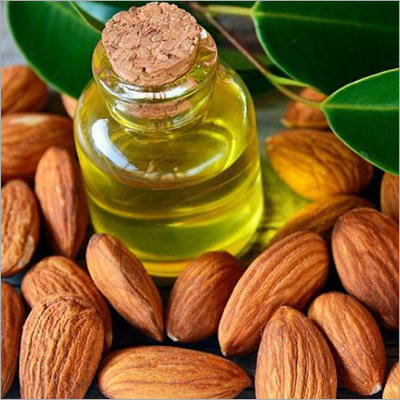 Product Specifications
Pharma industries, Personal Care, etc

Other

Other

Almond

1 Liter (L)

Organic

Season

All Type

500 Ml, 15kgs , 5 Litre, 1 Litre, 250ml

24 Months

High

Cold Pressed Virgin
Trade Information
50 Liter Per Day

7-10 Days

Yes

If order is confirmed we will reimburse the sample cost

Bottle Packing and Box Packing

Western Europe, Central America, Asia, Australia, Africa, Middle East, Eastern Europe, North America

All India

ISO 9001:2015
Product Description
About Sweet Almond Oil
Sweet almond oil is the essential oil of sweet almonds that is extracted through an oil distillation process; it can also be extracted with an almond kernel press.
Benefits of Sweet Almond Oil
Sweet almond oil can work as an excellent topical skin treatment for sunburns to lighter skin coloration disorders, under-eye circles, scars or other blemishes that you want to reduce or eliminate.
The regular use of this essential oil can help you look your youthful best. A research paper published in the Journal of Nursing and Health Science states that the antioxidant potential of vitamin E, certain fatty acids, and other active ingredients in almond oil neutralizes free radicals that cause issues like reduced skin elasticity, wrinkles, and age spots.
Sweet almond oil is an excellent way to moisturize chapped lips. The oil is rich in vitamins and has moisturizing qualities that make it ideal for use as a natural lip balm. Simply apply a little sweet almond oil onto dry, cracked lips.
Pat some sweet almond oil around the eye area for a wonderful natural solution to crow's feet and puffy eyes. Do this every night before going to bed, carefully avoiding direct contact with your eyes, and allow it to work as your sleep.
The oil has the ability to strengthen your hair. Dr. HH Hazen, in an article published in the American Journal of Nursing, stated that the rejuvenating quality of vitamin E can help boost the health of your hair follicles, and increasing the luster and volume of your hair. Replace your hair conditioner with a coin-sized amount of almond oil to see these results!
Sweet almond oil may also cure dandruff by deeply moisturizing and removing dead skin cells on the scalp. Author Sylvia Sage in her book, How to Overcome Dandruff and Other Scalp Disorders, recommends massaging your scalp with gently warmed sweet almond oil, preferably mixed with olive oil. Leave on for an hour and wash off with a mild shampoo to clean your scalp of flakes.
If you suffer from inflammatory conditions of any kind – either internally or on the skin – sweet almond oil can be a fast and effective remedy.
The same benefits that this oil imparts to your skin and hair can also be used for your nails. If you want to reduce nail breakage, protect against fungal infections, and stimulate healthy growth, simply apply some of this oil to your nails and nail beds daily until you begin to see results!
If consumed internally, sweet almond oil can have a major impact on your heart health. Some research has shown that the health benefits of almonds, including omega-3 fatty acids, can help to reduce LDL cholesterol levels, and thus also reduce your risk of certain cardiovascular conditions, such as heart attacks and strokes.
Almonds are often associated with boosting well known to boost brain power and improve memory and retention, so it comes as no surprise that a concentrated dose of almond oil can have much the same effect. Along with a balanced diet, regularly integrating a bit of the oil to your morning tea, simply using it for cooking or even adding a few drops of this oil on your pillow may help give you a cognitive edge.
About Bitter Almond Oil
Fifty percent of the oil obtained from bitter almond (scientifically known as Amygdalus communes var. Amara) contains three basic components, namely, benzaldehyde, glycoside amygdalin and hydrogen cyanide (also known as hydrocyanic acid or prussic acid) while the other fifty percent contains mono-unsaturated fatty acids and other components similar to those in sweet almonds.
Benefits of Bitter Almond Oil
Bitter almond oil in very low doses has also been in use as a febrifuge for chronic fevers. Such applications, although beneficial from the point of view of lessening fever, can have their own adverse and toxic effects on the body.
The acute bitterness and the poisonous nature of bitter almond oil are very effective in killing intestinal worms, but again, it should be administered in very low potency.
Bitter almond oil is also said to possess antispasmodic properties.
The two components of bitter almond oil, hydrogen, cyanide, and benzaldehyde, are extremely toxic to animal life as well as to bacteria, germs, fungi, and virus. Therefore, it can be efficiently employed as a bactericide, antiviral and fungicidal substance. It can be used in curing ailments associated with infections from virus, germs, and fungus.
The toxic compound glycoside amygdalin, present in bitter almond oil, affects nerves and make them insensitive to any sensation, even pain. This induces numbness and anaesthetic effects. However, it should be applied externally for local anaesthetic purposes only. Ingestion for total anaesthetic purposes should never be attempted and could be fatal.
Being toxic in nature, bitter almond oil cannot be digested and if ingested, cause frequent loose motions and vomiting. Thus it has been and is still in use as an effective purgative (Aperient). The only thing is that the dose given should be very low and mild or it may have severe adverse effects.
The body has a natural tendency to remove toxic substances that have gotten inside the body through sweat, urine, and excreta. That is why when bitter almond oil is ingested in very small amounts, the body tends to throw it out through frequent urination. This frequent urination helps you lose weight and relaxes the body. When combined with the anaesthetic and tranquilizing effects of this oil, it successfully brings down the blood pressure.
Other Products in 'Cold Press Virgin Oil' category